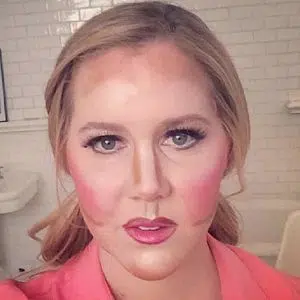 Amy Schumer got married! Like, out of nowhere! The ceremony took place on Tuesday, at a rented mansion overlooking the ocean in Malibu. Her new husband is Chris Fischer, a chef and co-author of the book, "The Beetlebung Farm Cookbook: A Year of Cooking on Martha's Vineyard".
Amy only revealed she was dating the guy on Sunday, when she posted a picture of them kissing at Ellen Degeneres' birthday party. But they've been dating since at least November.
Amy's wedding was super low-key. A source says, "It was thrown together last minute. Most of the guests found out the wedding was happening on Tuesday from a text message sent out by Amy on Sunday. Basically she texted them and said, 'Hey, this is happening. If you can make it, great. If not, no worries.'
The guests included Jennifer Lawrence, Larry David, David Spade, Judd Apatow, Jake Gyllenhaal, Chelsea Handler, and Jennifer Aniston.
Speaking of Jennifer Aniston, she and Justin Theroux split up.
They released a statement saying, "This decision was mutual and lovingly made at the end of last year. We are two best friends who have decided to part ways as a couple, but look forward to continuing our cherished friendship."
They said they announced it to head off the gossip, adding, "Whatever else is printed about us that is not directly from us, is someone else's fictional narrative.
"Above all, we are determined to maintain the deep respect and love that we have for one another."
Jennifer and Justin got engaged in August of 2012, and married in August of 2015. So, they were married a little over two years when they split up.
Of course there are already rumours that Jennifer is finding comfort in the arms of other men. First of all, according to their statement, they ended things at the end of last year. Since then Jennifer has supposedly been leaning on her pal Gerard Butler. The two of them became friends (and a little more) after filming "The Bounty Hunter" together. Now, one of my sources tells me that Gerard never stopped wanting her and that he has made it clear that although timing wasn't right for him before, he's ready to commit to her now.
I have also heard that part of the reason Jennifer and Justin's marriage disintegrated was because Jennifer started talking and even meeting up with her ex, Brad Pitt. My source tells me Jennifer and Brad had dinner just a few days before her birthday (February 11th).
Okay, what is going on?! The Spice Girls led us to believe they were all going on tour together, then Victoria Beckham aka Posh Spice said that was not happening. Now, I have received reports that in fact, all five Spice Girls have signed on the dotted line for both U.K. and U.S. reunion tour dates (although for a limited number of concerts).
Katy Perry caught the wedding bouquet at her brother's wedding on Valentine's Day and then ran away from the other guests. Katy posted a video on Instagram that shows her bolting with the bouquet after catching it. She captioned the video: "When you crave companionship but run from love when you get it." Interestingly, Katy's ex-boyfriend Orlando Bloom later commented on her post. He wrote, "You can run but you can't hide… from YOURSELF," along with a kissing face emoji.
David Spade was a little out of it at Ellen DeGeneres' recent 60th birthday party. In fact, he revealed on yesterday's show that he got totally high at the shindig. "I was already drunk…but it was nighttime," he later joked, adding that he "already came in a little hot" when he arrived after a gig. David also dished on some of the celebs at the party, including Adele, Oprah Winfrey, Melissa Etheridge, Pink, and Reese Witherspoon. He also saw Jennifer Aniston speaking to Kris Jenner. "Kim Kardashian was close by. I think she was winding down, and Kris Jenner didn't want to leave. I was thinking, 'What if my mom was at my same party as a kid? It'd be so crazy.'"
Yesterday the NBA announced that Justin Bieber will be competing in the February 23 Celebrity Game during All-Star weekend in Los Angeles. Justin hasn't appeared in the game since 2011, when he was a mere 16 years old. Jamie Foxx, Nick Cannon, Property Brother Drew Scott, Stranger Things' Caleb McLaughlin, Jerry "Turtle" Ferrara, Arcade Fire frontman Win Butler, golfer Bubba Watson, and rappers Common and Quavo from Migos are also set to participate.
Speaking of Justin, he and Selena Gomez enjoyed a romantic evening together on Valentine's Day and showed lots of PDA. They attended a church service on Wednesday, February 14, and then headed to the Montage Beverly Hills Hotel for a lovely dinner for two.
Throughout the dinner, they looked lovingly at one another, Selena caressed Justin's face and at one point he leaned in to give her a sweet kiss on the lips.
Katie Holmes and Jamie Foxx made a rare public appearance together on Valentine's Day when they hit the basketball court together. A cute video shows Holmes doing a silly dance down the sidewalk as Foxx looks on and laugh. Entertainment Tonight reports that Foxx picked up Holmes at her house on Wednesday afternoon and that they returned to her place after an hour of playing basketball. The two have been rumored to be dating since 2013, but have kept their romance private.
Oh, baby baby, we belong together! After Valentine's Day, Mariah Carey posted a photo of her boyfriend Bryan Tanaka getting' ready to get busy in bed, with Mariah clad in a candy-encrusted bra. "I'm in heaven with my boyfriend…Happy Valentine's Day," Mariah captioned the sexy snap. For his part, Bryan was only wearing a towel, which probably got tossed right after the photo was taken.
Blake Shelton was unable to spend Valentine's Day this year with his girlfriend Gwen Stefani, so he sent her a huge bouquet of roses instead. Gwen was overwhelmed by the gift and shared her reaction via Snapchat. "Oh. My. God," she declares in the clip. "Somebody loves me!" The accompanying card only contained the words, "Have a great Valentine's Day! I love you!" But Gwen was still over-the-moon about the gesture, writing, "Luckiest girl in the world" in white font across her video.