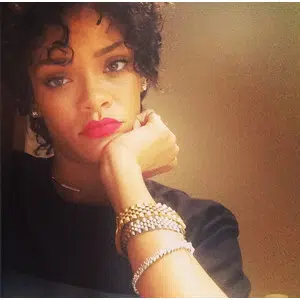 Chris Brown gifted Rihanna with 30 roses and a $30,000 diamond necklace for her 30th birthday. My source tells me she was happy Chris remembered it was her birthday, but she's not planning on wearing the necklace. First of all, it's not really her style anymore. And then of course, there is the small fact that she has moved on and his dating a wonderful man right now. Her current boyfriend, Hassan, was no upset by the Chris gifts, from what I hear. That alone, shows what a good and confident man he is.
You knew this was coming; my source tells me Brad Pitt's mom is hoping her son will reconcile with Jennifer Aniston. Jane Pitt and Brad's entire Missouri-based family actively pushed Brad to get back in touch with Jennifer. Now they want to see them dating again. Not sure Jennifer is going to be ready to dive back in to anything with Brad, but I have heard that they are talking.
Robin Thicke and his girlfriend April Love Geary have confirmed they welcomed a baby girl over the weekend. Her name is Mia Love Thicke. April (who is 23 – Robin is 40) posted a pic of Robin's 7-year-old son Julian patiently reading Mia a bedtime story.
Kylie Jenner revealed yesterday that she received a new car from her baby daddy Travis Scott as a "push present" for giving birth to their daughter. Kylie posted footage of her brand new black Ferrari, which features red interiors and butterfly doors. Hours later, the couple were seen taking the $1.4 million car out for a spin en route to a lunch date at celebrity fave sushi restaurant Nobu. Kylie gave birth to daughter Stormi Webster on February 1.
Justin Bieber may be starting his own clothing line. According to my source, the Biebs recently filed documents to secure trademarks on three different names related to his middle name. The names "The House of Drew," "La Maison Drew" and "Drew" are all listed in the documents as "clothing and wearing apparel" in the intended good and services section. Shirts, jackets, pajamas, children's clothing, swimsuits and bras (yes, bras) are stated as possible products. There is no word on when Justin might announce his line.
Jennifer Lawrence revealed in a new 60 Minutes interview that all of her smarts are self-taught. "I dropped out of middle school. I don't technically have a GED or a diploma. I am self-educated," the 27-year-old says. "I found what I wanted to do and I didn't want anything getting in the way of it." She adds that when she discovered acting, "That was a whole part of my brain that I didn't even know existed. And I didn't want to let it go."
Now that Britney Spears has been raking in the dough with her Las Vegas show, her ex Kevin Federline is looking to get a little more cash via her monthly child support check. Lawyer, Mark Vincent Kaplan sent a letter on behalf of Kevin Thursday, stating that he wants to open up discussion on how much K-Fed receives from Britney. Britney was married to Kevin from 2004 to 2007, they have two sons together, Jayden and Sean. She currently pays her ex $20,000 a month in child support. That number, however, was determined based on Britney's income at a time when she was dealing with mental health issues and not working much. She reportedly made $15 million a year from her four-year-long Vegas residency.
Amber Rose and ex Wiz Khalifa showed some major co-parenting skills at their son's birthday party by dressing up in Suicide Squad-themed costumes. Amber dressed as Harley Quinn and Wiz as the Joker at son Sebastian's spooky," Halloween-themed fifth birthday party on Saturday. Sebastian dressed as the Joker too. Young guests included Blac Chyna and Tyga's son King Cairo and Evelyn Lozada's son Leo. Sebastian also showed a possibility of following in his dad's footsteps by picking up the microphone and performing Michael Jackson's "Man in the Mirror" and Queen's "Bohemian Rhapsody" during the party.
I hear that Prince Harry has invited his ex-girlfriends, Chelsy Davy and Cressida Bonas, to his wedding to Meghan Markle. Apparently, Harry is a guy you would have wanted to date, he made sure there were no hard feelings when they split up and truly remained friends with his exes.