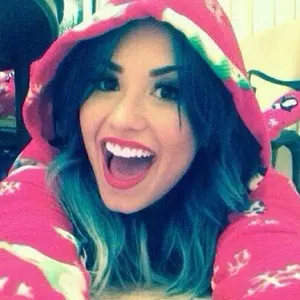 In a new cover story Demi Lovato reveals that she left the 2016 Met Gala early after an awful celebrity encounter and went to an Alcoholics Anonymous meeting. "I had a terrible experience. This one celebrity was a complete b**ch and was miserable to be around. It was very cliquey," she recalls. "I remember being so uncomfortable that I wanted to drink." She continues, "I changed my clothes, but I still had my diamonds–millions of dollars of diamonds on in an AA meeting. And I related more to the homeless people in that meeting who struggled with the same struggles that I deal with than the people at the Met Gala–fake and sucking the fashion industry's d**k." Lovato goes on to list Ariana Grande and Iggy Azalea as her famous friends who aren't fake. "The people that aren't willing to chill with you at home are the type of people that just want to be seen with you," she explains.
Kris Jenner reportedly dropped $8,000 outfitting a new nursery for her daughter Khloe Kardashian, who is expecting her first child. They went to Petit Tresor and Couture Kids in Beverly Hills. Kris was making suggestions on what Khloe should buy and Khloe agreed with a lot of what she said. Kris paid for everything and was happy to treat Khloe." The momamger spent $3,600 alone for three giant stuffed giraffes. Khloe is more than eight months pregnant and is expecting a daughter with her boyfriend Tristan Thompson.
Jennifer Lawrence always seems to be having a great time. But one thing she's not having is a lot of sex. In fact, she says, "I have not had sex in a very long time."
And that's because she doesn't have a boyfriend. Believe it or not, she's really not into casual hookups.
She says, "I always talk like I want [man-meat], but the truth is when I look back at my sexual past it was always with boyfriends. I talk like I like it, but I don't really do it."
One reason she's so careful about her partners is because she's a germaphobe. Quote, "I have made it this far without an STI. [Man-meat] is dangerous.
"If I was at the point where I could get an STI, doctors have already been involved. That is how much of a germaphobe I am."
Bachelor stars Arie Luyendyk Jr and his fiance Lauren Burnham had their first public date at a New York City sushi restaurant yesterday. A source tells the newspaper; "They were all over each other and even feeding each other sushi. They seemed happy and had smiles all night long."
Francia Raísa, who donated her kidney to Selena Gomez last year, has revealed that the pop singer nearly died from the procedure. "A few hours after our surgery, I woke up and had a text from her that said, 'I'm really scared," Francia tells W magazine. "My kidney was very active, and when she turned, she broke an artery." She adds, "They had to take her into emergency surgery and get a vein from her leg and build a new artery to keep my kidney in place." Selena revealed in September 2017 that she had undergone a kidney transplant several weeks prior.
According to my source, Emma Watson is reportedly dating former Glee star Chord Overstreet. "It's crazy but, yes, they are seeing each other, although Emma wants to keep things quiet and private," my source says. The two of them were seen leaving an Oscars party together on Sunday night and photographed together at a concert at Hollywood's Troubadour in February.
Yesterday, "Grey's Anatomy" announced that two actresses wouldn't be returning next season: Jessica Capshaw, who plays Arizona Robbins, and Sarah Drew, who plays April Kepner.
Jessica had been with the show since Season Five in 2008, and Sarah had been onboard since Season Six in 2009. The showrunner says they aren't returning for "creative" reasons.
But when Deadline.com reported the news, they noted that this comes just six weeks after star Ellen Pompeo signed a new contract worth $20 million a year. Clearly, the implication was that they might have cut them to save money.
Well, Ellen didn't appreciate that. She Tweeted, "It's unfortunate that Deadline.com chooses to try to pit women against each other on International Women's Day . . . I'm a big girl. [They] can take shots at me if they want. But to the fans, please don't fall into that trap. This is above my pay grade."
Deadline later updated their story, claiming that they never meant to make a connection between Ellen's fat new raise, and the casting changes.
Pamela Anderson is speaking out against her ex-husband Tommy Lee after he announced that he planned to press charges against their 21-year-old son Brandon for assault. Brandon allegedly hit Tommy and knocked him unconscious during an argument earlier this week. In a post titled "Alcoholism Is the Devil," she writes, "I stand beside my son who acted out of self defense and was scared for his life," she writes on her website. Nobody understands the lifetime of disappointment this man has brought our family. Consistently the center of sadness, drama and confusion. Jealous of his sons' talent and beauty from the day they were born. He is sick. The definition of narcissist/ sociopath." Anderson went on to accuse Lee of being an alcoholic and said his fiancée, Vine star Brittany Furlan, "keeps him drunk." She continues, "I pray Tommy gets the help he needs. His actions are desperate and humiliating. He is a disaster spinning out of control, and he is not acting like a father."
Charlize Theron has revealed that she and her mom Gerda indulge in marijuana to combat their sleeping issues. "I'm always willing to try anything. You got one life to live, why not?" the star said during her appearance on Jimmy Kimmel Live! on Wednesday. "I have really bad sleep [patterns] and so does my mom. We do take sleep medication and I was saying to her, 'Maybe we should try a sleeping strain, something that could help us with sleep.'" Charlize assumed she'd have to take on the task of acquiring the goods, but nope! "Last week she showed up at my house, literally drove in her little tennis outfit and brought me a little container and just left it on my kitchen table."