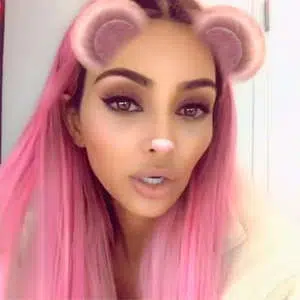 After welcoming third child Chicago West earlier this year, Kim Kardashian tells Elle she may have one more kid–but that's it. She says, "I don't think I could handle more than that. My time is spread really thin. And I think it's important that in all couples, the mom gives the husband as much attention as the kids." Speaking of the husband, she adds about Kanye, "He's taught me to have more of an opinion. I've taught him to be a bit more calm and cautious. We're a good balance."
Speaking of Kim and babies, before Chicago was born, there were rumours about all the rules she and Kanye West had imposed on the surrogate. But it sounds like she really wasn't that much of a tyrant.
She says all she wanted was for the baby to be born in L.A., where all her other kids were, and for the surrogate to use her doctor. Also, she had to eat organic, which wasn't a problem, because she already did.
Kim says, "I straight-up told her, 'Look, I ate doughnuts every single day. If you want doughnuts and ice cream, go for it. Do whatever you feel.' I'm not going to be picky like that. That's just ridiculous."
Kim hated being pregnant, but she still wishes she could have had her third child the natural way. She had a medical condition that complicated her first two pregnancies, and she didn't want to take the risk again.
But she added, "The control is hard at the beginning. Once you let that go, it's the best experience. I would recommend surrogacy for anybody."
One of my sources tells me Jennifer Aniston's ex, Justin Theroux, has been contacting Selena Gomez on Instagram. This source says, "It was kind of an open secret that Justin was sweet on Selena when he and Jen hung out with her. But he's asking for major trouble by trying to hang out with her and clearly stating his intentions so soon after he and Jen ended things."
There is a new "Esquire" piece on Shia LaBeouf. It's fascinating, and even helps you understand why he has so many issues.
One of the most important things you'll learn is that Shia was conceived in a sleeping bag in the back of a van, and his name, roughly translated, means "Thank God for the beef."
"Shia" is Hebrew, and it means "Gift of God", or "Praise God", or something along those lines. That's from his mom's side. But LaBeouf basically means BEEF in French. His dad is Cajun.
Another interesting fact about Shia: He's sober. At least for now. And he just played another legendary A-hole, John McEnroe, in the movie "Borg vs. McEnroe".
And he learned a very important difference between McEnroe and himself… he says, "McEnroe was a master at his rage. I'm a buffoon. My public outbursts are failures.
"They're not strategic. They're a struggling mother[effer] showing his ass in front of the world."
A British reporter named Lucy Ford recently attended a press junket for A Wrinkle in Time and gave Reese Witherspoon a copy of her 15,000-word college dissertation on Legally Blonde. "I want to start by saying I'm obviously a gigantic fan of all of you," she told Witherspoon and her co-stars Oprah Winfrey and Mindy Kaling. "But Reese, I actually wrote 15,000 words on you once. I wrote my university dissertation on Legally Blonde and strong female characters." She continued, "This is just from me, you can read it, you can burn it, you can clean your windows with it, but I feel like that was full circle for me, but I wrote that four years ago." Lucy also shared that she's seen Legally Blonde a whopping 800 times. In case you're curious, her dissertation was titled Blonde Ambition: Legally Blond, Postfeminism and the Reimagination of the Strong Female Character.
Zayn Malik and Gigi Hadid have broken up. Apparently after 2 years of dating their hectic schedules drove them apart.
In Zayn's public statement about the breakup he said, "Gigi and I had an incredibly meaningful, loving and fun relationship and I have a huge amount of respect and adoration for Gigi as a woman and a friend. She has such an incredible soul."
In her statement Gigi said, "I am forever grateful for the love, time, and life lessons that Z and I shared. I want nothing but the best for him and will continue to support him as a friend that I have immense respect and love for. As for the future, whatever's meant to be will always be."
So, there are the statements…meanwhile, on Instagram, Zayn posted a shirtless pic of himself on Instagram, along with the telling caption, "When life throws you lemons, catch 'em so they don't hit you in the f**king face."
On Dax Shepard's podcast, Ellen DeGeneres shared that her big break in comedy came after her late girlfriend's death. "My girlfriend was killed in a car accident when I was like 20 years old. And I wasn't doing comedy, I think I was probably waitressing someplace at the time. I was living with her when she was killed," she recalled. "I couldn't afford to live where we were living together and so I moved into this tiny little basement apartment. I moved into this basement apartment and I was sleeping on a mattress on a floor and it was infested with fleas. And I used to write all the time, I wrote poetry and songs and stuff, and I thought, 'Why is this beautiful 21-year-old girl just gone and fleas are here?'" Ellen went on to reveal that her girlfriend died in a car accident after the two had a huge fight. "I thought it would be amazing if we could just pick up the phone and call up God and ask questions and get an answer," she noted. That led to her creating her famous "Phone Call to God" comedy bit that got her on The Tonight Show Starring Johnny Carson in November 1986.
Mandy Moore hopes that starring on This Is Us is helping her develop mothering instincts. She says she can't wait to be a mom one day. The 33-year-old actress, whose character Rebecca Person is a mother of three, adds that the show's director Ken Olin made an observation about her acting that made her think about what she'd be like as a parent in real life. "I remember being on set the first day, Ken coming up to me and saying, 'You don't ask permission as a parent' because I kept saying, 'Excuse me, can you please do this for me?'" she recalls. "[He said] 'You're being too polite and you're asking permission. Parents don't do that. You tell the kids what to do and they listen to you.'"
Jimmy Kimmel's monologues got a lot more political in the last year . . . especially over healthcare, because of his newborn son's heart problems. And Kimmel knows some people were turned off.
He says, "According to polls I've seen, it has cost me commercially. That's not ideal, but I wouldn't change anything I said."
He adds that he knows his job is to entertain people, but he wants to reserve the right to talk about serious things that are important to him from time to time, "I don't want to abuse my position. I pick my battles. 90% of the time, I'll joke around, but some of the jokes, I hope, make people think."