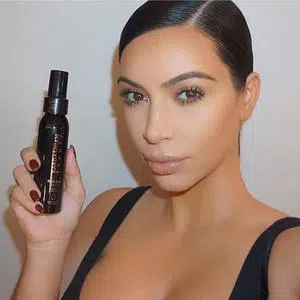 Kim Kardashian is launching a new fragrance, because apparently the world can't get enough of whatever it is she's pimping out! The bottle that will hold this new fragrance will be shaped like Kim's body. As far as the scent goes, she says, "The scent is so good, I'm so proud of it. It smells to me like what I would think golden smells like, even though that's a color and something that's just luminous."
Kanye West doubled down on his love for President Donald Trump in a new phone call with radio DJ Ebro Darden. In Darden's recap of the conversation on Monday, he explained that Kanye told him, "I do love Donald Trump." He added that Kanye loves Trump because the rapper "reached out to Obama for years and couldn't get anything done, but Trump gave [him] a meeting." The conversation came about after Kanye tweeted over the weekend that he supported conservative, anti–Black Lives Matter commentator Candace Owens and "the way she thinks." Kanye added that he intended to "just take this heat right now and maybe people will understand when I put the music out."
Kim Kardashian has revealed that she always wanted to be famous and almost applied to be on MTV's The Real World. "I had worked in my dad [Robert Kardashian]'s office for so many years, but I didn't have a career and I didn't love college. I went [for] four years but I didn't graduate. I just sat there, and I was like, 'What am I going to do?'" she recalls. "When I was really young I always was–it's the weirdest thing, but I loved The Real World. And I would say to my best friend's dad who was a manager, 'You should be my manager! And when we're 18, I'm going to send a tape into The Real World because I have to be on a reality show.'" She continues, "Like, that's it! It clicked. This is what I want to do. And then the producers that produced The Real World produced my show, so it kind of all came full circle." Keeping Up With the Kardashians first aired in October 2007.
Sarah Jessica Parker, who famously wore a black gown for her wedding to Matthew Broderick in 1997, has launched a line of wedding dresses. WWD reports that the Sex and the City star's first collection contains 10 looks, including gowns, skirts and jumpsuits with bright colors and details like cut-outs and feathers. The pieces available in sizes 0 through 14 and priced from $295 to $2,395 on Gilt.com. "We recognized that there was this space where brides were looking for something that felt different," SJP explains. "The intent is they should be usable outside of that special occasion. Whether you're the person walking down the aisle, or you're attending, these are all pieces that should be relevant in your closet."
Prince Harry and Meghan Markle are not above renting porta potties for their wedding. The reception is being held at a 17th-century home. Needless to say it doesn't have the number of bathrooms… or likely the plumbing to support the number of guests they will have.
Kate Middleton and Prince William welcomed their third child at St. Mary's Hospital in London yesterday. He joins brother Prince George, 4, and sister Princess Charlotte, 2.
The baby's name has not yet been announced, though Albert and Arthur are tied as the most popular names for a boy, according to British oddsmakers.
Kate and the baby are already home and are said to be doing well.
Former Smallville actress Allison Mack, who was arrested last week for sex trafficking, allegedly tried to lure Emma Watson and Kelly Clarkson into a notorious sex cult in upstate New York. Allison tweeted to Emma in January 2016, "I'm a fellow actress like yourself & involved in an amazing women's movement I think you'd dig. I'd love to chat if you're open." She also wrote to Kelly, "I heard through the grapevine that you're a fan of Smallville. I'm a fan of yours as well! I'd love to chat sometime."
Allison pleaded not guilty to charges of sex trafficking and forced labor on Friday. The 35-year-old actress was allegedly involved with Nxivm (pronounced NEX-ium), a group that claimed to be a self-help program but was, in reality, a cult in which women were forced to have sex with founder Keith Raniere.
Kim Kardashian and Kanye West are reportedly at the center of a bidding war between movie bosses over the rights to make a story of their romance. Hollywood is said to be hot on the idea to immortalize the story of the famous couple, who wed in 2014 after a two-year romance following Kim's brief second wedding to Kris Humphries. Now the likes of Warner Bros. and Sony are wooing them, and they figure a movie could be a huge hit if it's done right. Word is that Kanye wants his music to play a central part.
Avril Lavigne made her first red carpet appearance in two years this weekend and dropped some more hints about her sixth album.
Avril has been suffering from the effects of Lyme disease for the last few years (she was diagnosed in 2015). She says the album is "a really powerful record." She says she's been working on it for three years and she will be ready to release it later this year. She adds, "I've gone through a lot of personal stuff in the past two years and so I've really drawn from that."